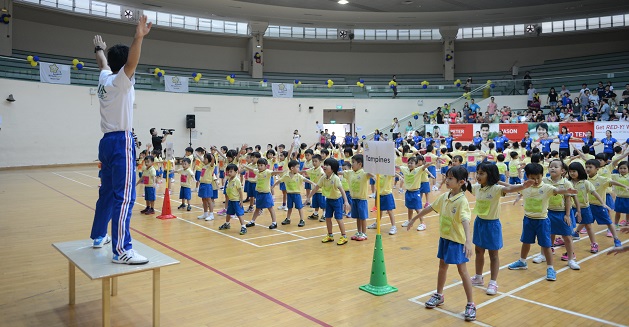 Every child was a winner at NurtureStars's 3rd Annual Sport Day held on 29 August 2015 as some 170 of them from the Nursery and Kindergarten classes took part in eight different games while their parents and classmates cheered them on.
It was a day for the little ones to stretch their body and mind in fun competition, where they enjoyed the excitement, the comraderies and bonding with their parents.
The parents too had the opportunity to join their children in one of the games where they worked together to compete against other parent-child teams. Some of the teachers joined in the fun when they pitched their endurance skill against the parents and children in the Hula Challenge. The fathers also had the opportunity to flex their muscles to the delight of their children in the Tug-of-War.
Held at the Toa Payoh Sports Hall, NurtureStars Sports Day 2015 drew the attendance of 501 parents and children. It was supported by the Health Promotion Board (HPB), SAFRA and Kinderland. The guest of honor was Ms Chan Siew Eng, Deputy Director, Pre-school Partnerships Department, School Health and Outreach Division, HPB.
More than 800 parents, children and their family attended the event specially organised to celebrate the healthy journey of the children. It is part of NurtureStars' ACTIVE LEARNING curriculum that integrates physical activities with classroom learning for a healthy holistic experience.
This is line with the Ministry of Education's mission to nurture well-balanced children through quality sports and classroom learning.